When the Australian Army needed to construct a brake testing facility for its tanks, those in charge knew it would have to be one of the most durable concrete surfaces available.  The engineered product that provided the best performing and most economical protection was the use of Mastertop 200, a proven solution for concrete durability and abrasion resistance manufactured by BASF.
Mastertop 200 is an iron-armoured, dry-shake surface hardener specifically designed for industrial floors needing additional abrasion resistance and impact protection.  It is just one of the Master Builders Solutions range of heavy-duty hardeners and toppings.
Townsville's hot and humid conditions meant the steel-fibre reinforced concrete mix had to be placed in the coolest part of the tropical day – the middle of the night!  The 800 square metre track was poured in two sections over successive nights by the experienced team at BK Constructions, with technical supervision and guidance provided by CE Industries staff.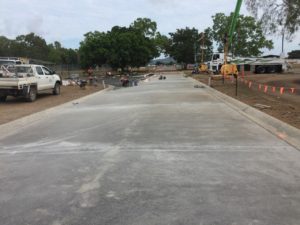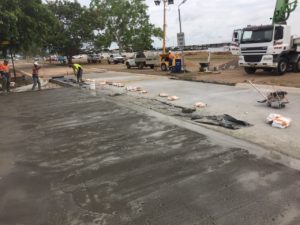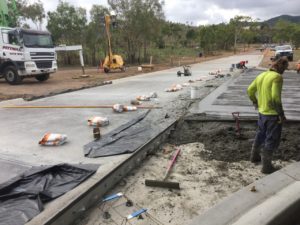 The hardener was applied in two applications at a final coverage of 11kg per square metre, giving the surface the durability to handle huge tracked vehicles slamming on the anchors.   As the concrete was placed and the Mastertop applied, Masterkure 111 evaporation retardant was used to prevent rapid drying of the surface before the slab was cured with Masterkure 404 acrylic co-polymer curing compound.
Congratulations to BK Constructions and managing contractor Shamrock Civil for a job well done.  Just another example of how the highly-knowledgeable staff at CE Industries can come up with a solution to a complex problem.